Our staff's commitment to you
Our staff is committed to providing support, compassion, information, and direction as needed to all members of our community, their families, and friends who are dealing with loss and grief.
Littleton & Rue Funeral Home and Crematory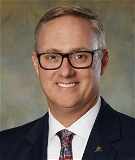 Rob Rue
CFSP / Funeral Director / Owner
robrue@littletonandrue.com
ROB RUE graduated from Springfield North High School, Class of 1988. He received a Bachelor of Arts in Business Administration from Heidelberg College, a Bachelor of Mortuary Science from The Cincinnati College of Mortuary Science, and an Associate of Arts in Practical Ministry from the F.I.R.E. (Fellowship for International Revival and Evangelism) School of Ministry. Although Rob has been working at the funeral home since the age of 13 washing the fleet of cars, he began his professional career as a Funeral Director with Littleton & Rue in 1995.
In January of 2004 Rob's father, Tom expanded family ownership and operations to his son and family friends Bill Hoelscher and Rob Kampman.
Rob serves on the Greater Springfield Chamber of Commerce Board of Directors, Convention and Facilities Authority, Convention and Visitors Bureau, Past-Chairman of the Board of Trustees of the Nehemiah Foundation, graduate and Past President of Leadership Clark County, and is a current Candidate for Springfield City Commission. Rob is a member of the Academy of Funeral Service Practice and is a Certified Funeral Service Practitioner (CFSP).
On New Year's Eve 2002, Rob married his best friend Jenny (McNamara) Rue. They are believers in the Lord Jesus Christ and fellowship with His Church. Rob and Jenny homeschool their five children: Zach, Lydia, Brock, Rachel and John Luke.